Safety
Important Safety Information
1) Read these instructions.
2) Keep these instructions.
3) Heed all warnings.
4) Follow all instructions.
5) Do not use this apparatus near water.
6) Clean only with dry cloth.
7) Do not block any ventilation openings. Install in accordance with the manufacturer's instructions.
8) Do not install near any heat sources such as radiators, heat registers, stoves, or other apparatus (including amplifiers) that produce heat.
9) Do not defeat the safety purpose of the polarised or grounding-type plug. A polarised plug has two blades with one wider than the other. A grounding type plug has two blades and a third grounding prong. The wide blade or the third prong are provided for your safety. If the provided plug does not fit into your outlet, consult an electrician for replacement of the obsolete outlet.
10) Protect the power cord from being walked on or pinched particularly at plugs, convenience receptacles, and the point where they exit from the apparatus.
11) Only use attachments/accessories specified by the manufacturer.
12) Use only with the cart, stand, tripod, bracket, or table specified by the manufacturer, or sold with the apparatus. When a cart is used, use caution when moving the cart/apparatus combination to avoid injury from tip-over.
13) Unplug this apparatus during lightning storms or when unused for long periods of time.
14) Refer all servicing to qualified service personnel. Servicing is required when the apparatus has been damaged in any way, such as power-supply cord or plug is damaged, liquid has been spilled or objects have fallen into the apparatus, the apparatus has been exposed to rain or moisture, does not operate normally, or has been dropped.
NO USER SERVICEABLE PARTS INSIDE. DO NOT ATTEMPT TO GAIN ACCESS TO THE INTERIOR OF THE PRODUCT. REFER ALL SERVICING TO AUTHORISED ORANGE SERVICE PERSONNEL
The lightning flash with arrowhead symbol, within an equilateral triangle, is intended to alert the user to the presence of un-insulated 'dangerous voltage' within the product's enclosure that may be of sufficient magnitude to constitute a risk of electric shock to persons.
Terminals labelled as "Speaker Outputs" must be connected to a speaker cabinet of the designated load rating using an un-shielded two conductor cable for speaker use at all times during operation.
The exclamation point within an equilateral triangle and "WARNING" are intended to alert the user to the presence of important operating instructions. Failure to heed the instructions will result in severe injury or death.
WARNING: To reduce the risk of fire or electric shock, do not expose this apparatus to rain or moisture. For indoor use only. Do not place liquids, or objects containing liquids on or near the apparatus
Models which use a mains cord/plug to connect to the mains electricity supply must be connected to a mains socket outlet with a protective earthing connection. The voltage selector switch and mains fuse are set at the factory for the country or region in which this Orange product is intended to be sold. To prevent serious damage to the product, ensure that the rated AC mains voltage indicated on the product's rear panel agrees with the mains voltage from your AC mains outlet before connecting the mains cord/plug.
If the product is to be used outside of the factory set region, ensure the voltage selector switch (found on the rear or side panel) is set to the correct voltage for the new country/region and that the appropriate mains fuse is fitted in the pull-out fuse tray below the IEC mains input.
The correct mains fuse rating for your product is printed on the chassis. Use only the same 250V type and rating as specified for the product. Different operating voltages may require the use of different types of line cord and attachment plugs. If you are unsure, contact your Orange Dealer.
This Orange product fulfils the requirements of IEC 60065:2001 (Seventh Edition) + A1:2005 + A2:2010 for Audio, Video and Similar Electronic Apparatus.
This product complies with the WEEE Directive (2002/96/EC) marking requirement. This affixed product label indicates that you must not discard this electrical/electronic product in domestic household waste. Please contact your local authority for details of your nearest approved recycling facility.
This device complies with the Canadian Interference Regulations CAN ICES-3(B)/NMB-3(B).
This device complies with Part 15 of the FCC rules. Operation is subject to the following two conditions:
This device may not cause harmful interference.
This device must accept any interference received, that may cause undesired operation.
Note: This equipment has been tested and found to comply with the limits for Class B digital device, pursuant to Part 15 of the FCC Rules. These limits are designed to provide reasonable protection against harmful interference in a residential installation. This equipment generates, uses and can radiate radio frequency energy and if not installed and used in accordance with the instructions, may cause harmful interference to radio communications.
However, there is no guarantee that interference will not occur in a particular installation. If this equipment does cause harmful interference to radio or television reception, which can be determined by turning the equipment off and on, the user is encouraged to try and correct the interference by one or more of the following measures.
Reorient or relocate the receiving antenna.
Increase the separation between the equipment and receiver.
Connect the equipment into an outlet on a circuit different from that to which the receiver is connected.
Consult the dealer or an experienced radio/TV technician for help.
Changes or modifications not expressly approved by Orange Music Electronic Co. could void the user's authority to operate the equipment.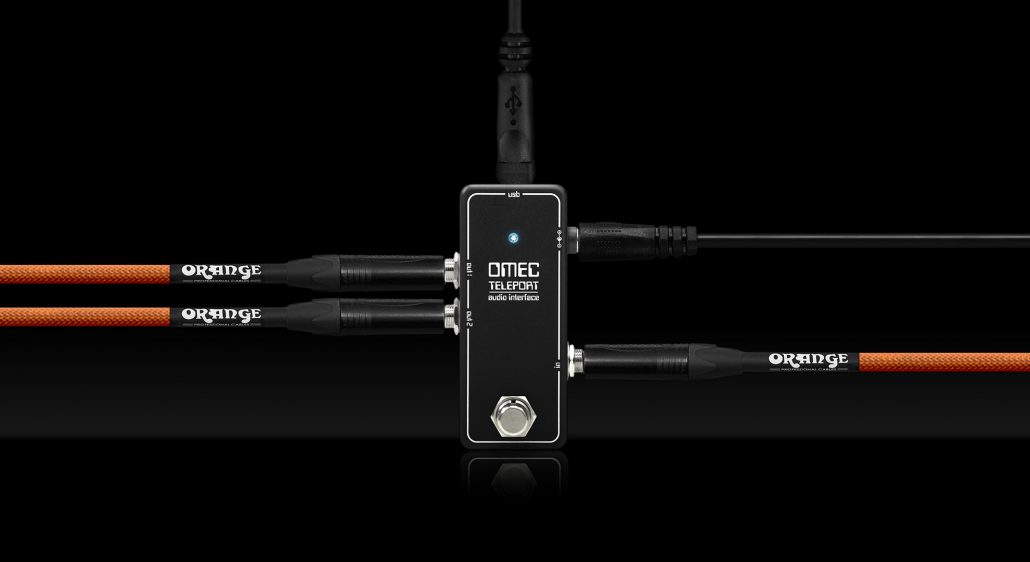 | 1. DC INPUT | The OMEC Teleport requires an 9V dc external power supply. (Not supplied) The barrel plug should be a 'standard 2.1mm pedal type' with a centre negative polarity (centre –). The maximum current draw of the OMEC Teleport at 9 Vdc is 85 mA. Make sure the power supply meets these specifications. |
| --- | --- |
| 2. INPUT | Connect your instrument to the input jack. |
| 3. BYPASS SWITCH | Engages/bypasses the OMEC Teleport. The LED will illuminate when the pedal is active. |
| 4. OUTPUT 1 | Connect the OMEC Teleport to your DIs, mixing desk, amp, powered speakers, pedalboard or PA |
| 5. OUTPUT 2 | Connect the OMEC Teleport to your DIs, mixing desk, amp, powered speakers, pedalboard or PA |
| 6. USB B | Connect your OMEC Teleport to your laptop or other mobile device |
AN AUDIO INTERFACE FOR THE STUDIO AND GIG
The OMEC Teleport interface is a universal connection device (IOS, Android, Mac, PC) without any specific drivers or software requirements. It features high quality ADC/DAC converters – through a USB B connector – housed in a small effect pedal enclosure.
The Teleport allows you to convert both analog audio signals (an instrument for example) to digital to be processed with the many applications available. Additionally, the Teleport gives you the ability to convert digital audio signals to analogue (through mixers, D.I. boxes, amplifiers, etc.).
With this versatility the Teleport can be used for a wide range of applications: musicians that want to play, record, mix or process their sound, with the autonomy provided by mobile devices; Bluetooth connected musicians, like keyboard players or DJs employing the same devices for their sessions; even the amateur music lover who wants to convert music stored on their devices to analogue with renewed quality.
IN USE
The OMEC Teleport is an analogue to digital converter (ADC) and digital to analogue converter (DAC) in a pedal functioning as an external soundcard for your mobile device or PC/Mac, converting your instrument's signal into a digital audio signal. If it's possible with digital audio, it's possible with the OMEC Teleport.
You can use OMEC Teleport with your favourite apps/software and also include it on your pedalboard like an effects pedal. The Teleport is compatible with any USB device that can manage digital audio signals, via a standard USB-B to USB-A cable.
You will need to add a USB adaptor for mobile devices: – Camera Kit for iOS – OTG for Android.
Note: The OMEC Teleport uses buffered bypass so some true bypass pedals, such as Wahs and Fuzzes will work best placed in front.