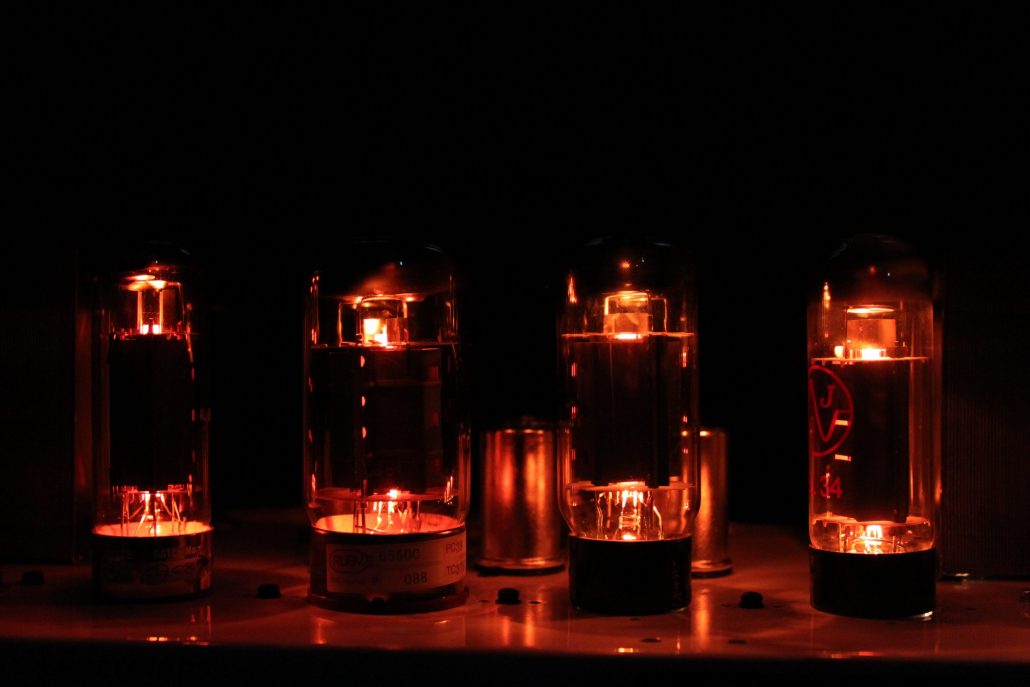 Here at Orange Amplification, we love our valves. There is something addictive about the warmth, tonal quality and rich harmonics generated by a good valve amplifier, and our commitment to valve technology scaled new heights in recent times with the introduction of our ground-breaking DIVO VT-1000 Valve Tester and DIVO OV4 bias management system.
However, despite our love affair with this now pretty ancient technology, many of us are all too aware of the fragility and temperamental nature of those little glowing glass things buried deep inside our amplifiers. Much like the light bulbs in our homes, valves can fail at any time, often without warning causing headaches and frustration for amateur players and seasoned pros alike.
The good news is that the overwhelming number of technical problems we see here at Orange HQ can be solved simply by replacing offending faulty or worn valves. What's more, you don't need a degree in physics to develop your fault-finding skills.
Without getting too technical, there are two sections to your amplifier: The preamp and the power section. Within these sections there are different valves, each performing a different function, but just one suspect valve can lead to undesirable performance or, worse still, cause the whole amp to fail.
Explaining how a valve works is not the purpose of this article, but understanding the role of each of the valves in your amp and knowing what to look (and listen) out for could save you much embarrassment before that all important gig! This month we'll be looking at output/power valves.
………………………………………………
Output valves come in various forms but play an important part in shaping the overall character of your amplifier. EL34, EL84, 6L6, 6V6, KT88, 6550 are the common types found in Orange amplifiers. Typically, the tonal variations in power valve type will be more apparent at higher volume, when the output valves begin to 'clip' and go into overdrive, and this is where many of us guitar players find our 'sweet spot'. Unfortunately, the trade-off is that output valves will wear at a much faster rate when pushed hard, i.e. at gigging volume – just when you need them most!
"How do I know when my output valves are worn?"
Some of the common symptoms of worn power valves are easy to spot. One of the most obvious is a drop in volume and a lack of 'punch'. Alongside this, you may also notice a reduction in 'clean headroom', by which we mean the amp will begin to distort much earlier as you increase the Master Volume (without much increase in actual loudness). The bass response and clarity of the amp is also likely to suffer, with low frequencies sounding mushy and higher frequencies losing their usual sparkle and brilliance.
"I'm hearing strange noises coming from my amp!"
Unusual noises (particularly excessive hissing, crackling or squeals) are normally associated with preamp problems but you can check for this very easily. Increase the Gain and slowly turn the Master Volume down. If the noises continue after the Master Volume has been turned down, the problem is likely to be an output valve. If the noises disappear after turning the Master Volume down, it's most likely a preamp valve (which we will discuss next month). You can also try very gently tapping each output valve with the end of a pencil. They should be virtually silent, but if the noise changes, you've found the culprit.
If you experience unexpected distortion accompanied by a slight humming coming from your amp, switch the amp to 'Standby' and take a look at the output valves. If you notice that one valve is glowing much hotter than the others, this could indicate a temporary or intermittent 'short' inside the valve. If the problem continues when the amp is switched back to the 'On' position, and the same valve appears to be overheating, you have identified the offender.  
"Help, my amp is dead!"
So you've switched your amp on, ready to strum your first chord but there's a problem: no sound at all! If any of the power valves have failed, this will trigger the HT (High Tension) fuse in your amp to blow. This is a safety mechanism designed to prevent damage to the output transformer, so the amp has actually done its job!
Switch your amp off, disconnect it from the mains supply and replace the HT fuse, even if the fuse appears OK to the naked eye. The HT fuse holder on Orange amps is a 'twist type' is located on the rear of chassis. The fuse type and rating is printed here and in the product manual. You must replace the fuse with the EXACT type and rating as specified for your amplifier. If the amp continues to blow the HT fuse, you can be fairly certain one or more of the output valves has failed.
Whilst on the subject of fuses, if your amp is 'dead', it would also be worth checking/replacing the mains fuse. The mains fuse may blow due to an internal failure in the amp, but a random power surge could also be responsible. Again, the same applies: Disconnect the amp from the mains supply and replace the fuse with the EXACT type and rating, as stated on your amplifier. The mains fuse tray is located underneath the IEC (power) cable inlet.
For these reasons (and for the sake of a few pennies) it's always worth carrying a set of spare fuses. Your bandmates will thank you for it!
When/how often should I change my output valves?
This is a question we often get asked, and there is no simple answer. However, replacing valves should be considered a basic part of ownership and something you will have to do at some point during the working life your amplifier. Valves are in a permanent state of decline from new and this just comes with the territory of owning a quality valve amp!
If you're running your amp flat out, playing shows and rehearsing several nights a week, you'll be wearing your output valves faster than if you're just noodling about at low volume in your bedroom.
Certainly, if you are experiencing any of the symptoms described in this article you should replace them as soon as possible. As with fuses, it's worth keeping a spare set of valves for your amp as you never know when you'll need them.
With output valves, we would always strongly recommend replacing with a full 'matched' set from the same valve manufacturer to ensure even performance. If your amp has 2 output valves, you should replace with a matched pair. These are available to purchase from our website.
What is 'rebiasing' and do I need to worry about it when I replace my output valves?
Again, this is a common question, although the answer depends on which Orange model you own.
Put very simply, the bias is the voltage applied to the amp's power valves when no guitar signal is present (at idle). If the bias is set too high, the valves will run too hot and wear much faster. Set the bias too low and the amp will sound weak and not perform to its optimum. However, not all amps require their bias adjusting when it's time to swap the power valves.
The following models in the Orange range will need rebiasing, and this should only be done by a qualified technician:
Rockerverb series

Thunderverb series

OR50

OR100

TH100

AD200B

Custom Shop 50
If your amp is not listed above, you can simply change them out, but once again, be sure to use a full matched set.
Thank you for taking the time to read this article. Getting to know a little about your valves is something well worth doing, so we hope you found this information useful. Next month, we'll be looking at how to identify potentially faulty preamp valves.
Please note:
Valves are a user replaceable part, but if you are uncomfortable with anything in this article, please contact your nearest Authorised Orange dealer.
Written by Rohan Byrt
https://orangelearn.com/wp-content/uploads/2013/09/F49AEB86-A07D-45F7-967A-025A43752FE4.jpg
2000
3000
Charlie
https://orangelearn.com/wp-content/uploads/2018/04/Orange-Pics-logo-307px.png
Charlie
2013-09-09 19:52:54
2016-03-29 10:58:57
Getting Technical: Output Valves