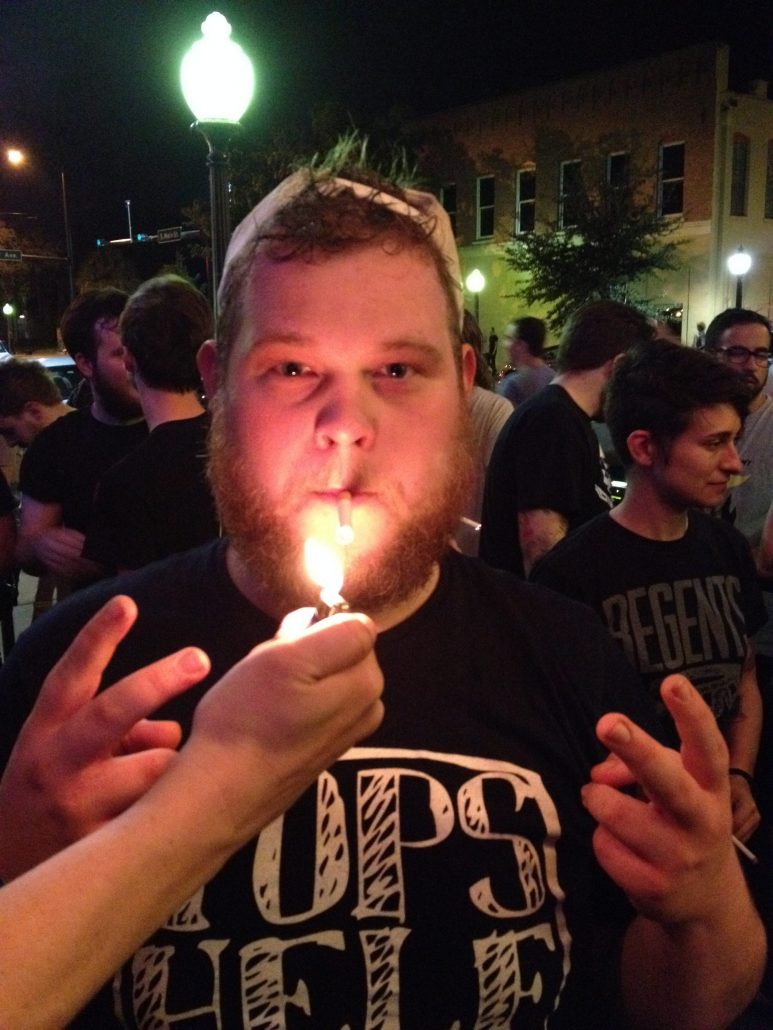 Orange: Alright would you like to introduce yourself?
Cory: My name is Cory Fischer, and I play guitar in Frameworks.
Orange: How long have you guys been a band?
Cory: We have been a band for two and a half years, since early 2011.
Orange: You've released two EP's and a new split with Prawn. Have you been excited about that?
Cory: Yeah it's awesome! They're awesome dudes, and Kittyhawk and Droughts are also really good.
Orange: I was able to catch you guys last night, how was that experience?
Cory: It was really awesome. A lot of people came so that was really good. It's our hometown so we saw a lot of friends and bands we've played with.
Orange: Is this your first time playing FEST?
Cory: We've played house shows around here before but this was our first time on the schedule.
Orange: You guys just announced your signing to Topshelf Records, how did that happen?
Cory: Just knowing a lot of bands on their label that come through here we got to know them, and through FEST I met Kevin Duquette from Topshelf. He asked us to play SXSW and we were more than happy to do it.
Orange: You recorded that split at Glow In The Dark Studios, how was it working there?
Cory: It was awesome. That studio is probably the best studio in the southeast. Everything is really nice there and Matt McClellan is really good at what he does.
Orange: Who will be recording your full length "Loom"?
Cory: Jack Shirley at The Atomic Garden Recording Studio, he did Deafheaven's Sunbather. He also did The Caution Children.
Orange: Could you run through the equipment you use?
Cory: Yeah man, I use an Epiphone BC30 combo amp and I run that through a 2×12 Orange cabinet and a 2×12 Mesa.
Orange: How do you like the Orange cabinet?
Cory: It's awesome, my gear wouldn't sound nearly as good without Orange. The main reason I got an Orange is because I knew it was something that was going to sound good regardless of what I use.
Orange: Can you run me through the pedals you use?
Cory: Andy and I both use BOSS DD-20's on a setting that might be warp. It basically sustains all the notes that are being delayed and it sounds super thick. I also use a Ibanez TS9 and a BOSS tuner.
Orange: So have you been on the road a lot?
Cory: Yes we've been on four separate tours this year with Rescuer, Caravels, Slingshot Dakota, Prawn, Tiny Moving Parts, we had a few shows with Calculator, and a band called Sleep Patterns from southern Florida.
Orange: When was the first time you saw or heard of Orange?
Cory: Probably watching Mastodon, I've always kind of known about you guys and your quality stuff.
Orange: So what's the tour diet?
Cory: It depends. If I have money I eat like a king! If I'm broke I'm pretty much eating bagels because they fill you up and you can get them discounted and like the end of day. A lot of Taco Bell. Sometimes Denny's happens.
Orange: What bands have influenced your sound?
Cory: A lot of our friend's bands. The Caution Children, they've had a big impact on my playing. A lot of post-rock bands like This Will Destroy You, Explosions In The Sky, and Russian Circles. Just a lot of pretty music with textures.
Orange: So as far as FEST bands go, who should people check out?
Cory: I know I've already talked a lot about The Caution Children but definitely check them out! Calculator, Tiny Moving Parts is really great live, Caravels is awesome, Slingshot Dakota is great, really nice people and they only write bangers! If you want to have a good time and listen to some happy music and feel good about your life listen to Slingshot Dakota!
Orange: Anything you'd like to add, anything about where people could check you out?
Cory: Yeah we have a bandcamp and we're releasing Loom through Topshelf so check that out!
Listen to "Loom" by Frameworks off their soon to come full length record on YouTube

https://orangelearn.com/wp-content/uploads/2014/03/fireworks-e1395259134641.jpg
3000
2250
Joseph McMichen
https://orangelearn.com/wp-content/uploads/2018/04/Orange-Pics-logo-307px.png
Joseph McMichen
2014-03-19 20:00:59
2019-07-01 15:07:14
Fest 12: Interview with Frameworks