A CLOSER LOOK BACK AT THE VERY EARLY DAYS OF ORANGE
Orange Amps' enthusiasts well know that the Orange Story began 45 years ago on Monday, September 2nd 1968 when founder and Orange Amps' CEO, Cliff Cooper, opened the Orange Shop in London's New Compton Street. On display in the window was the shop's entire stock: this amounted to one secondhand Vox PA that Cliff still owned from his days as bassist in The Millionaires.
It was sold that same day and the Orange Shop soon grew to become much more than a music equipment store – it was the place where famous musicians such as Marc Bolan, Peter Green, Eric Clapton and Paul Kossoff would often spend their free time.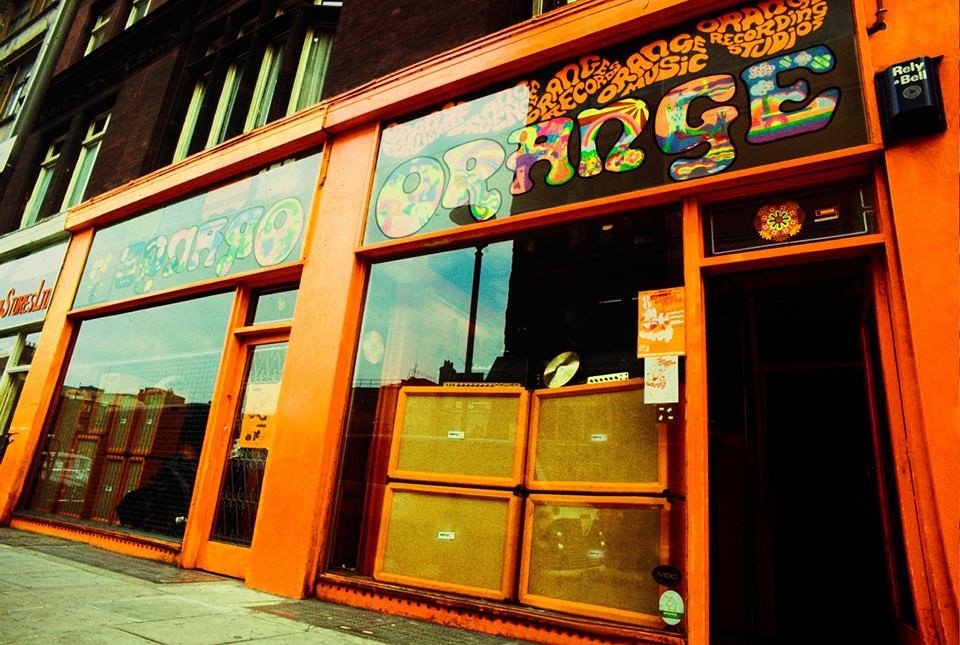 Perhaps what is not so generally known about those very early days is just how quickly things did move forward when Cliff decided to diversify and make his own amps and cabs as well retailing secondhand guitars and gear. The following timeline speaks for itself.
In early October 1968, Orange Amps didn't exist; the company was called Orange Music – which meant the Orange Shop selling secondhand guitars and amps. But then Cliff had no choice but to make his own amps, having been given the brush-off by all the major manufacturers when he tried to buy new equipment from them to retail in the Orange Shop.
And yet by the first week in November Orange's first endorsees, top UK blues-rock band Peter Green's Fleetwood Mac, had a full Orange PA . This comprised 6 100-watt amps (2 with stand alone spring reverb units) and 16 speaker cabinets (a mix of rectangular 4x12s and 2x12s). The band first road tested the PA in the north of England before taking it with them on a three-month tour of America starting in December.
The picture-frame amp sleeves and speaker cabs with the unique Lloydloom basket weave front cloth; the psychedelic, once-seen-never-forgotten logo: and the orange finish itself – all these were colourful new design features that grabbed the limelight in what had become a rather monochrome and conservative industry.
And all this came together at New Compton Street in less than 28 days – and almost as many sleepless nights most probably – in what must have been a pretty relentless burst of creativity.
Those first six prototype amps (100 watters powered by two 6550/KT-88 valves not 4 EL34s) were branded Orange Matamp. But a lot of confusion still surrounds the Orange Matamp years – 1968-70.
Wrongly, many people still think that Orange Matamp was a company and joint venture between Cliff Cooper and Matamp's founder, Mat Mathias. Guitar magazine articles and histories about guitar amps referred to Orange Matamp as a company and partnership, which simply reinforced this confusion.
The truth about Orange Matamp emerged, almost incidentally, during one of the many interviews given to me by Cliff, about halfway through researching The Book of Orange (most of which was done during 2007/8). The truth being that although Orange Matamp was a brand it was never a company…. There was only ever Orange – at first called Orange Music and then Orange Musical Industries (OMI).
What actually happened was that one Sunday in early October 1968, Fleetwood Mac's new road manager, Dinky Dawson, took Peter Green to the Orange Shop and Cliff was delighted to land an order for the first ever Orange PA. But Dinky and Peter insisted that the amps had to be 100 watters.
Having been recently been put in contact with Mat Mathias, Cliff appointed Matamp as a sub-contractor to manufacture amplifiers for the Orange brand. At that point Mat was making his own 30-watt Matamp Series 2000 guitar amps in small numbers in the back of his tobacconist shop in the north of England, in Huddersfield town centre.
Cliff supervised the Series 2000 upgrade to the100 watts specified by Fleetwood Mac. Meanwhile, the picture-frame amp sleeves and speaker enclosures for Mac's PA were being built in the Orange Shop. In order to save precious time, Cliff sent the newly-designed Orange psychedelic logo up to Mat so that the white Traffolyte amp front panels could be engraved by a local firm Mat had used before.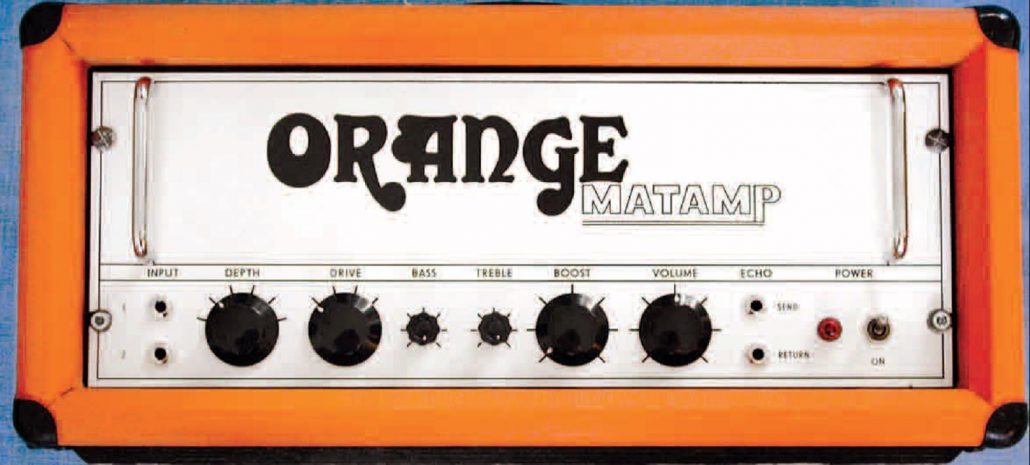 It was at this point that Mat asked if the Matamp logo could also be featured on the front panel and, out of courtesy, Cliff agreed. Ironically, it was in this way that the confusion began: music press such Beat Instrumental subsequently wrote about "Orange amplifiers" but the branding on the actual product was Orange Matamp.
The rise of Orange Amps during 1969 was no less than meteoric – so much so that there was even talk at Orange HQ about the company's motto being Voice Of The Universe! By spring 1969 world-class guitarists such as BB King, gave Orange amps the thumbs-up and also that year the BBC made Orange their PA of choice for the corporation's outdoor events. So in less than a year Orange rose from obscurity to being the coolest brand around. As a consequence, the 100-watt and 200-watt OR models were selling in big numbers,
Huge back-orders prompted Cliff to bankroll Mat Mathias's move from his small shop to a much larger production facility at nearby Cowcliffe in early 1970. The big picture Cliff had in mind was that this factory in the long term would not only meet Orange's orders worldwide but expand and also become a sub-contractor (called Cooper Mathias) for other amp manufacturers.
Mat's preferred plan was not as ambitious and so eventually there was an inevitable though very amicable parting of ways. The two remained good friends right up until Mat's untimely passing in 1989.
In 2013 any Orange Matamp amps and cabs that appear on eBay and other auctions command very good prices as collectors' items. Of course, in terms of their design and sound the first OR100 and OR200 series were low distortion "hi-fi guitar amps." Sonically, they had little if any resemblance to the characteristic Orange mid-range crunch that began with the introduction in 1971 of the 100-watt Orange Graphic 'Pics & Text' amp – a distinct sound back then that resonates today with the critically-acclaimed OR15 and OR100 models.
Interestingly, though, I know of one 1960s' valve amp enthusiast in the north of England who is pretty sure that he owns one of the very early Orange Matamp 100-watt prototypes powered by two 6550/KT88s, fixed ratio, and featuring two chassis and an 'umbilical' connecting preamp and output stages. Alas, that highly collectable amp mysteriously went missing a few years ago but when we last spoke determinedly he was on the trail to recover it.
An 'Orange 1968 Prototype Reissue' head to commemorate 50 years of Orange Amplification in 2018? Now there's an exciting thought….
Written by Martin Clemins
https://orangelearn.com/wp-content/uploads/2013/09/orange-matamp.jpg
710
1572
Martin Celmins
https://orangelearn.com/wp-content/uploads/2018/04/Orange-Pics-logo-307px.png
Martin Celmins
2013-09-09 19:17:43
2019-06-19 11:45:02
Legendary Orange: The Story Behind The First Orange Matamp